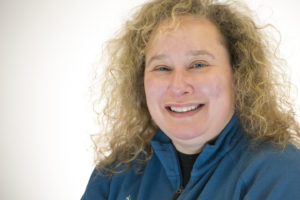 Erin Schaefer is a top International and National competitor. She and her Shetland Sheepdog Jag were the first American team to win an Individual Gold medal at the World Championships in Dortmund Germany, 2002. At the 2001 World Championships in Porto Portugal, they finished sixth Individually. They were also members of both Silver medal-winning mini Teams in Dortmund and in Porto. Jag and Erin have won several individual classes almost every year they competed over seas.
Nationally, Erin and Jag won double gold at the 2002 ESPN Great Outdoor Games in Lake Placid New York. In 2001 they were finalists at the USDAA National Championships in Del Mar CA. Jag was rated the top Shetland sheepdog in AKC agility in 2000, and was the 2000 AKC 16" National Champion. They have also won several AKC/Iams International classes held throughout the US. Jag was the 1999 USDAA Steeplechase Champion, and has won numerous Steeplechase qualifiers, as well as Grand Prix qualifiers. Since 1999, Jag has been rated in USDAA Top Ten in all categories, and is on the USDAA Lifetime Achievement list as a Top Dog. Jag has a USDAA Championship title (ADCH), five AKC Championship titles (MACH5), and NADAC Championship titles (NATCH, Vers-NATCH and his Speed Star). At the age of 12 Jag completed his last title in AKC, the Master FAST Excellent (MFX) and was among the first dogs in the northeast to achieve this title.
Not to be forgotten, Erin began her agility career with her American Eskimo, Stasch. A rescue with many behavioral problems, the two of them went on to become finalists in both the NADAC and AKC National Championships. Additionally, Stasch was listed in USDAA Top Ten in all categories up until his retirement in 1999. Stasch has a USDAA Championship title (ADCH), and a NADAC Championship title (NATCH) as well as his AKC MX and MXJ titles. He was the first American Eskimo to earn such distinctions.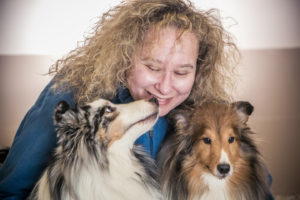 Erin and Jag have appeared on many television shows, including, The Purina Incredible Dog Challenge, The ESPN Great Outdoor Games, David Letterman, and most recently The Caroline Rhea Show. Erin and her dogs have also been featured in numerous publications, including Clean Run Magazine, Dog and Handler, The USDAA Bullletin, the Sheltie Pacesetter as well as several newspaper articles.
In 2008 Erin decided to become an AKC agility judge in order to round out her knowledge in the sport of agility and to give back to the sport as well.
Erin's current dog Kitt, a Shetland Sheepdog already is competing in the Excellent level at the age of 17 months.
Erin lives in Foxboro MA with her husband Ben Philibert who is also an avid agility competitor and agility judge.