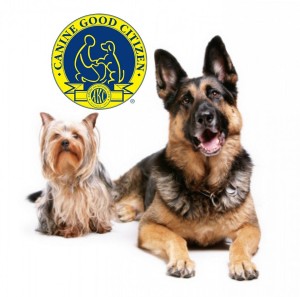 The skills taught in all our other classes culminate here. All the skills necessary to pass the tests have already been taught.  In this 6 week class we work on polishing all the elements required to pass the test for an AKC Canine Good Citizen (CGC) certificate.  Some of the elements covered are stays with distraction, recalls with distraction, loose leash walking, accepting a friendly stranger, walking past other dogs, and sitting nicely for petting. Testing will be done within a week of the conclusion of the class. Completion of Basic Manners Plus or equivalent required.
AKC's Canine Good Citizen (CGC),  AKC's Advanced Canine Good Citizen (CGCA) and therapy dog certification is a GREAT way to showcase that you have been working with your dog. Becoming a therapy dog is also a GREAT way to give back to your community by visiting nursing homes, hospitals, libraries and schools!. These tests show the dog is willing to behave with nice manners around new people and new dogs. They also demonstrate basic obedience commands of sit, down, stay and come when called and walking on a loose leash.
Click here to review the Canine Good Citizen test requirements.  Click here to review the Advanced Canine Good Citizen test requirements
If you do not think your dog is ready to pass a CGC, CGCA and/or therapy test, Performance Plus K9 Activity Center has training classes to get you and your dog ready!  Please visit our classes page for information on additional training.
Visit our Pet Obedience Class Calendar for start dates and session status